Foragable Community is eager to add more communities to this list of members. Visit our Start a Community page and get in touch to learn more about how we can help you begin to cultivate a sustainable and resilient food system in your community.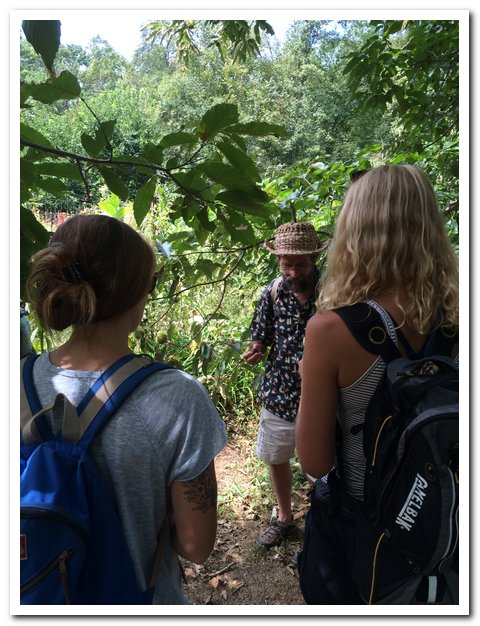 Doug Elliot leading a Forage Morganton educational event.
Foragable Morganton, a founding member of the Foragable Community Network, was created in 2016 through a partnership between community catalyst Mark Boyce and local business leads Wisteria Gastropub and Fonta Flora Brewery.   Since then, Foragable Morganton sponsored community-based educational events such as seasonal foraging walks led by Doug Elliott, Foragable Morganton's ethnobotanist, featuring the identification, ethnobotany and preparation of native and domestic edible plants and a workshop on Morganton foodways, led by Laura Lengnick, Foragable Community's resilience partner.  In 2017, Foragable Morganton led the design and installation of a native plant botanical garden at Fonta Flora's farm brewery located about 20 miles west of Morganton in Nebo, NC.  The garden serves as a native foods and flavors educational site for brewery visitors and community groups and will eventually produce native fruits, such as elderberries and paw paw, to season Fonta Flora's artisan beers.  Catawba Run joined Foragable Morganton to produce organic heirloom Bloody Butcher corn for Fonta Flora with plans to provide a diversity of native fruits and nuts in future.  See our blog page to learn more about these Foragable Morganton activities and other Foragable Community events.
Michael Sinclair is the catalyst of Foragable Durham, a collective launched in late 2017 and led by Mystic Farm and Distillery. Mystic is located in the heart of the Research Triangle on a 22-acre farm just minutes from downtown Durham. Initial planning in 2018 included the design and installation of a 1.2 mile native botanical walking trail through Mystic's farmland, a workshop series teaching local foods skills and a series of seasonal "Taste of Place" farm to table dinners featuring regionally-produced food and drink.  Mystic teamed up with Piedmont Picnic to host free workshops in 2018 and 2019 featuring locally grown ingredients.  In Spring 2019, the first stop on the native botanical walking trail – a bee foraging garden – was installed in a partnership with Apiopolis.  See our blog page to learn more about these Foragable Durham activities and other Foragable Community events.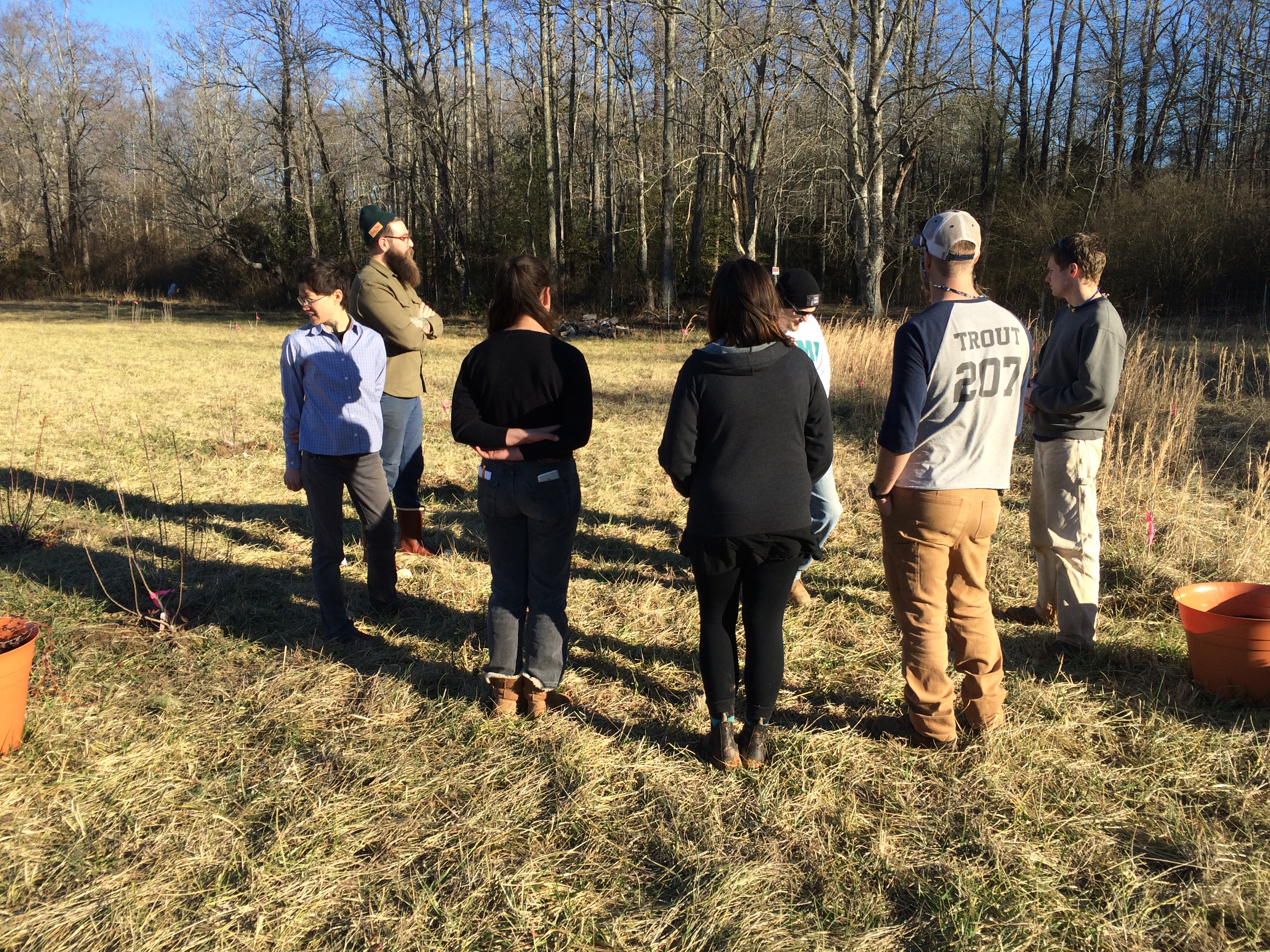 Todd Boera, head brewer at Fonta Flora, leads a group of college students studying sustainable food systems on a tour of Foragable Morganton's native flavors garden at Fonta Flora's farm brewery.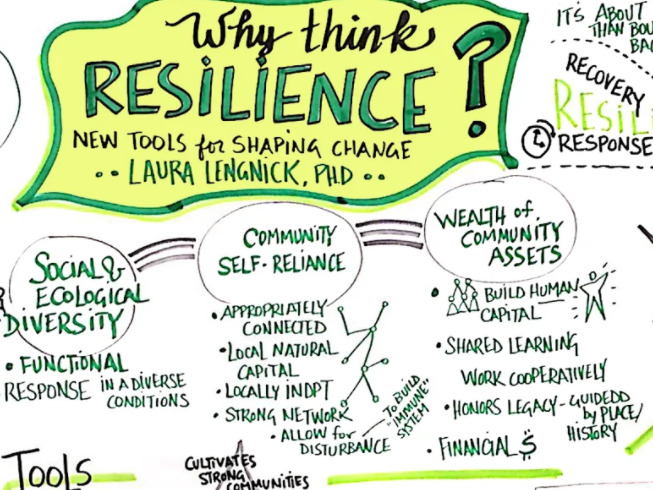 A closeup of the graphic notes captured at the ABFPC's Putting Resilience to Work workshop.  Credit Caryn Hanna CC BY-NC-SA 4.0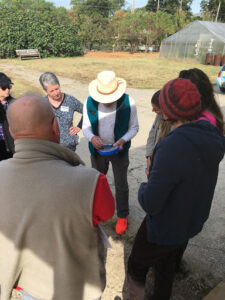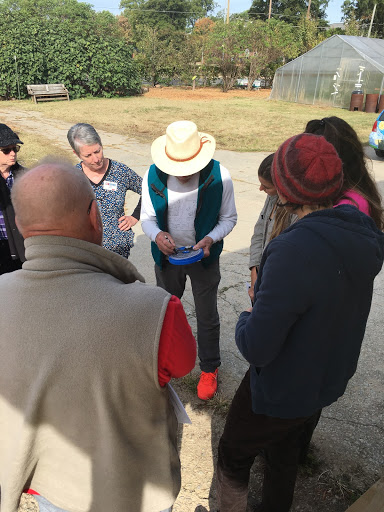 Will Hooker teaches participants how to use a solar path finder at Foragable Raleigh's Creating More Resilient Gardens workshop.
Piedmont Picnic is the community catalyst for Foragable Raleigh – the newest member of Foragable Community.  Foragable Raleigh got off to a great start in the Fall of 2019 partnering with local businesses to host workshops on baking with sourdough and climate resilient gardening.  See our blog page to learn more about these Foragable Raleigh activities and other Foragable Community events.
Are you interested in becoming a Foragable Community Catalyst?
Get in touch with us to find out more about how we can support a Foragable Community startup in your area.