At Fonta Flora Brewery, two local brews – Paw Paw Gose and Carolina Custard – deliver the unique native flavor of paw paw in each sip. It was about four years ago that Foragable Community partnered with Fonta Flora to establish a native flavors garden at the brewery's farmstead location in Nebo, NC.  This past spring, the young pawpaw planted there flowered for the first time – bringing some light to what has been on otherwise a very challenging year for the brewery.
When COVID hit this past Spring, like many small locally-owned businesses, Fonta Flora was faced with figuring out how to navigate a new economy. As Todd Boera, one of the founders puts it, "everything grinded to a halt." With restaurants closed and special events cancelled, he had to do a quick pivot from packaging much of their product in kegs to single use cans in order to keep the business afloat.   But it hasn't been easy an easy pivot.  Many other large national beverage producers (think Pepsi and Budweiser, for example) made this shift as well, and an aluminum can shortage swiftly followed.  Even today, Fonta Flora staff spend hours on the phone each week searching for cans to keep the brewery in operation.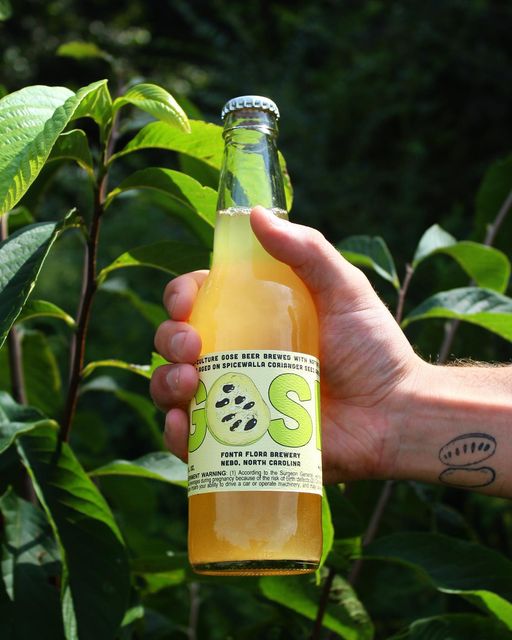 Fonta Flora's popular Paw Paw Gose, made with paw paw fruit, corriandor, and sea salt. Credit: Fonta Flora
By early summer, as social distancing restrictions eased and people began to socialize again, Fonta Flora staff experimented with new direct sales strategies such as pop-up markets in local communities in Morganton and Charlotte that are home to their resturant brewery locations.  Fonta Flora staff also recognized that their farm brewery offered another excellent location for welcoming back their customers safely. The farm brewery makes social distancing easy by providing people with ample outdoor space to spread out while enjoying the beauty of the property at the same time. 
All across the nation, small farms and local food businesses have served the shore up the national food system in the time of COVID. As COVID infections raced through large-scale industrial farms and national food processing businesses to disrupt the national food supply this spring,  local small and mid-sized farms and food businesses jumped in to fill the gap. Farmers markets increased hours, locations, and offered new products and benefits. Small scale processors took on new clients, while local food distributors strengthened existing relationships and made new ones with local food producers and processors.  This year, we saw first hand how local farm and food businesses were key to the resilience of our food supply as the global food system struggled to respond to the unprecented disruptions of a global pandemic.
Fonta Flora Brewery integrates the soul of agriculture with the artisanship of zymurgy to create a menagerie of rustic and savory libations. Foragable Community is a proud partner of Fonta Flora and Whipoorwhill Farm.
Sources
Dankbar, H. (2020, March 16). Local Food in the Time of Coronavirus.