According to the Center for Biological Diversity, the yearly count of monarch butterflies overwintering in Mexico for 2020 shows a decrease of 53% from last year's count, well below the threshold where migration collapse could occur.  It is likely that poor weather conditions – made worse by climate change – during the spring and fall migrations are behind this drastic drop in population this year, but the monarch is suffering from a massive loss of habitat as well. 
Since the 1990s, more than 165 million acres of monarch breeding habitat in the United States has been lost as a result of changes in the landscapes that the monarch depends on for food, rest and protection from predators as they make their yearly migration through North America from Mexico.  Changes such as the use of genetically modified corn and soybeans and increased development of prime farmland have contributed to the decline of this butterfly. Genetically modified crops are sprayed with herbicides that milkweed cannot survive. Increased mowing of natural vegetation growing along roadsides has also contributed to this loss in habitat.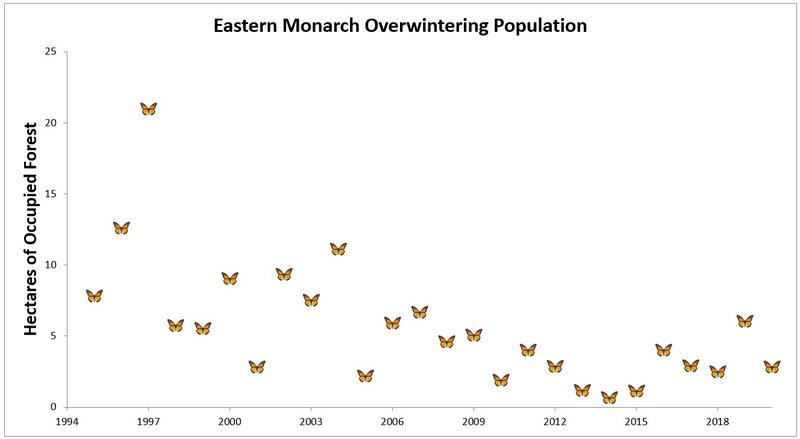 Eastern Monarch Population Decline Over Time
North Carolina hosts a yearly migration of these monarchs. The drastic decline in numbers seen this year reminds us that without everyone's help, the monarch and many other beautiful butterflies, are on a path to extinction.
The good news is that everyone, no matter who they are and where they live, can help to bring about the changes the monarch needs to thrive.  From advocacy in government, to support for grassroots organizations who organize monitoring and tracking efforts, to cultivating home-grown solutions in your own backyard – like our Butterfly Garden at Catawba Run!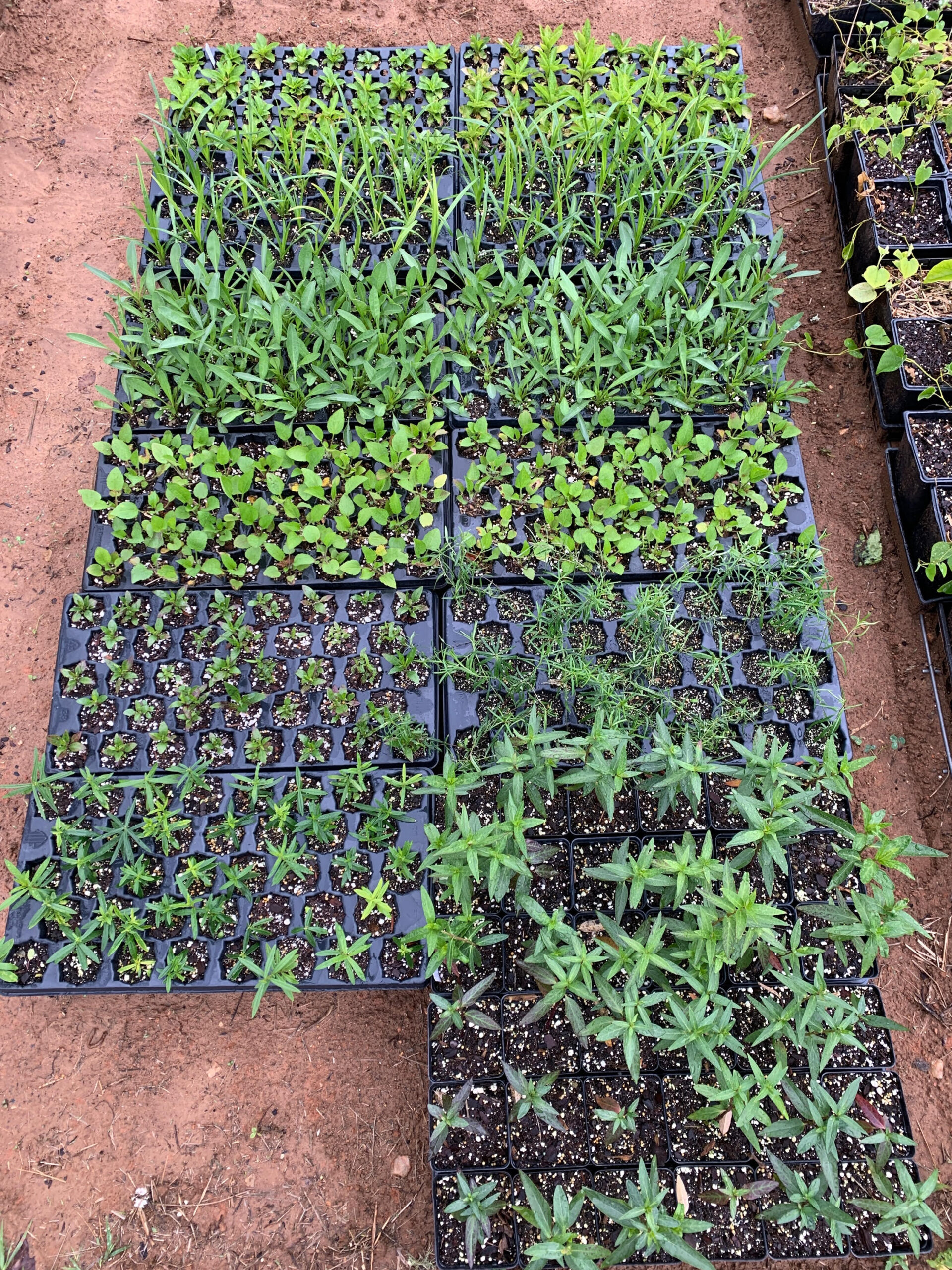 Butterflyweed, Swamp Milkweed, Whorled Milkweed, Common Milkweed, Blue Lobelia, Blazing Star, and Brown-eyed Susans
Planting for the Monarch at Catawba Run 
We met Kim Bailey of Milkweed Meadows a few years ago (check out our feature on her here) and learned about all the different plants that she has on her farm to support butterflies, including milkweed for monarchs and the paw paw for the swallowtail.  We wanted to do our part to help out the monarch at Catawba Run and so we reached out to Kim for help choosing plants for our butterfly garden.  We wanted mix of different plants that would welcome a diversity of butterflies and different kinds of pollinators, and of course, the beautiful monarch.  
Kim offered to grow the plants that we needed to start gardening for butterflies and a few months later, she delivered a diverse mix of beautiful young plants, including swamp milkweed, common milkweed, whorled milkweed and other flowers including sunflowers, brown-eyed susans, and blazing stars.
The milkweeds create the special habitat needed by the monarchs passing through our area, while the diversity of flowering plants attracts many other kinds of butterflies and other pollinators like birds and bumblebees too.  Each of these plant species adds something unique to the garden by adapting and thriving in various soil and weather conditions and flowering in different times of the year to provide a fresh source of food (as both nectar and pollen) all through the growing season.
What You Can Do and How to Support our Monarchs  
You too can lend a helping hand to the monarch and other butterflies by planting milkweed and other plants at home and in your community. Learn more about how to cultivate pollinator habitat in your area by reaching out to Master Gardeners or butterfly conservation organizations in your area or taking a trip to your local garden center to ask for some help selecting the right mix of plants for a butterfly garden.  You can also find lots of useful information online – for example, this resource from Western North Carolina seed company – Sow True Seeds – where they break down where to start, how to grow milkweed in your garden, and provide links to purchase seeds. 
You can also support local and national organizations doing amazing work to increase butterfly habitat. Volunteer your time or make a donation to projects like the North Carolina Wildlife Federation's "Butterfly Highway." Start a "Mayor's Monarch Pledge" in your town to increase awareness and action! You might also enjoy being a part of the hundreds of volunteers that help scientists track the monarchs as they migrate north each year. No matter who you are or where you live, you can start now to cultivate landscapes that welcome the monarchs on their iconic journey and help to make sure their beautiful black and orange patterned wings will not become a distant memory, but an ongoing force of nature to behold and protect.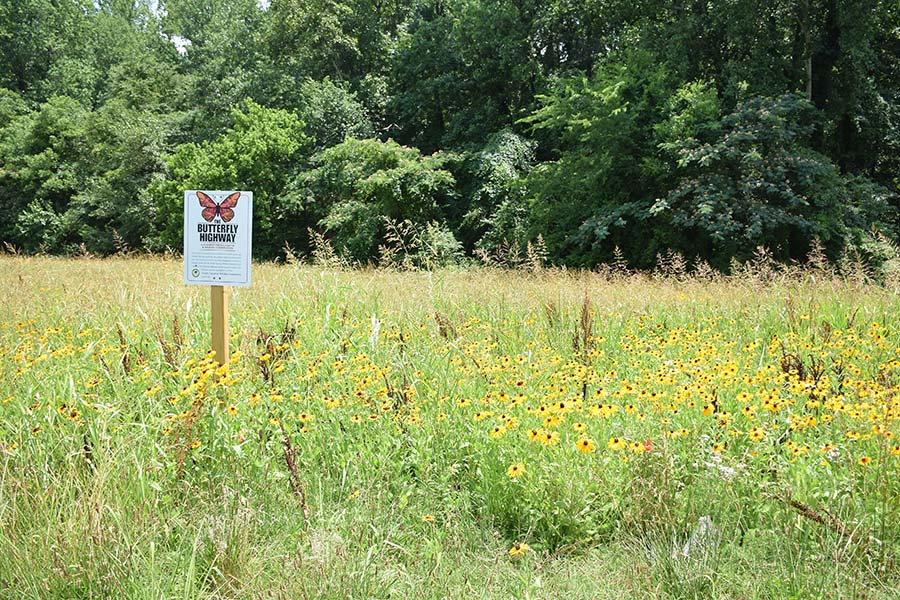 Pollinator plants, and other butterfly-attracting species along the NC Wildlife Federations "Butterfly Highway." 
Photo credit: NC Wildlife Federation 
Kim Bailey is a farmer, educator, and advocate who grows milkweed and other butterfly habitat and pollinator species on her farm in Kingston, NC. Milkweed Meadows has been a place of deep learning and rehabilitation for Kim, allowing her to see the impact of habitat creation for Monarch's and other butterflies and pollinators, and encouraging others to do the same in their own gardens! She also sells plant starts at local plant sales and supplies Sow True Seed. 
The Center For Biological Diversity believes that the welfare of human beings is deeply linked to nature — to the existence in our world of a vast diversity of wild animals and plants. Because diversity has intrinsic value, and because its loss impoverishes society, they work to secure a future for all species, great and small, hovering on the brink of extinction. They do so through science, law and creative media, with a focus on protecting the lands, waters and climate that species need to survive.
The North Carolina Wildlife Federation's mission is to protect, conserve and restore North Carolina wildlife and habitat. Since 1945, North Carolina Wildlife Federation has worked for all wildlife and habitat bringing together citizens, outdoor enthusiasts, hunters and anglers, government and industry to protect North Carolina's natural resources. 
 The North American Butterfly Monitoring Network is made up of programs that monitor butterflies in North America, collaborating institutions, and the people who are involved in our many projects. They are a network of data collectors, data users, and informatics specialists dedicated to the goal of supporting the wide-spread collection and use of all types of information on butterflies.
Catawba Run is 275 acres of old growth, unmanaged regrowth, and sustainable pine plantation located in the Piedmont region of North Carolina, near Nebo, just west of Morganton. This land is the setting for Foragable Community's next demonstration of our shared values: to use ecological management practices and resilience principles to restore the health and wellbeing of degraded landscape, and concurrently have a positive impact on the lives of people who participate in this vision of redemption and renewal.
The Catawba Indian Nation are the descendants of the original inhabitants of land that we call Catawba Run. The Catawba, or "the people of the river" pronounced yeh is-WAH h'reh in their native tongue, were farmers, renowned potters, and stewards of the land in most of the Piedmont of South Carolina, North Carolina, and Southern Virginia. Foragable Community acknowledges that Catawba Run is on this ancestral land.