Over at Catawba Run, a short walk past dense loblolly pines, newly planted chestnuts, and acres of red crimson clover, leads you to what is at first glance a stark landscape. Fallen and charred trees line 10 acres of hillside, contrasting with the young loblolly and mixed virginia pine and oaks surrounding the scene. You can almost smell the burning wood in the air as you imagine what it looked like as acres of trees were set on fire before you. As you step a little closer, you notice small tufts of green popping out, a flash of brightness against the black soot and soil. You crouch down to touch the soft needles, slightly sticky on your fingers. As you scan the land these small trees multiply before you, lining the freshly burned forest floor. You realize that what you first registered as barren, is actually a site for new growth and regeneration – these small seedlings are the beginning of a new forest! 
One day these tufts of green will emerge as Catawba Run's first stand of shortleaf pine, a once widely used and dominant pine tree across the Nation. Sadly, shortleaf pine range has been declining steadily for decades, requiring collaboration and action from foresters, private land-owners, and conservation projects, to begin to bring this once dominant native tree back into the storyline!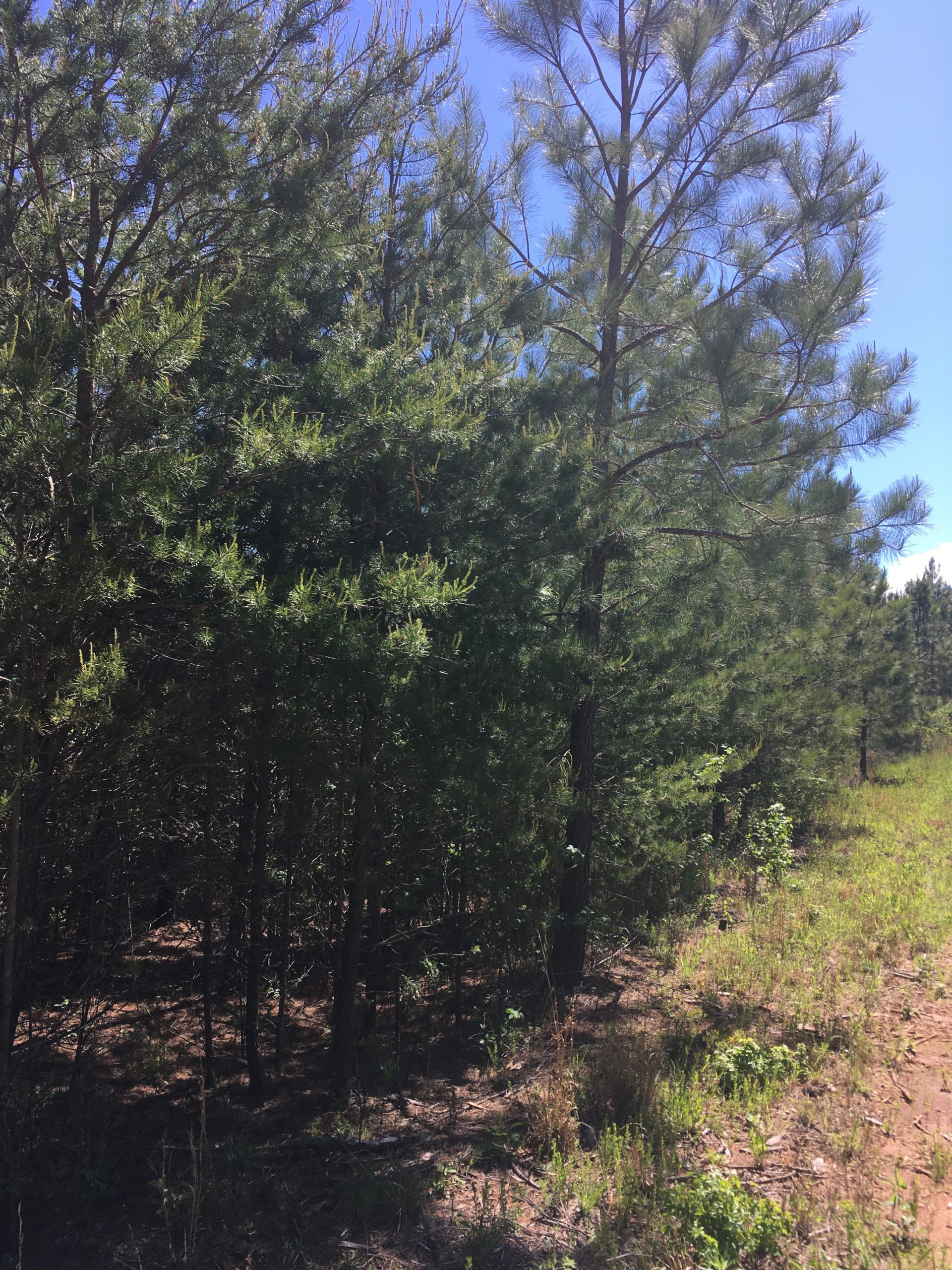 Young lobollly stand at Catawba Run. Catawba Run is a mix of old-growth, unmangaged regrowth from clear-cut, and other sustainably managed pine stands.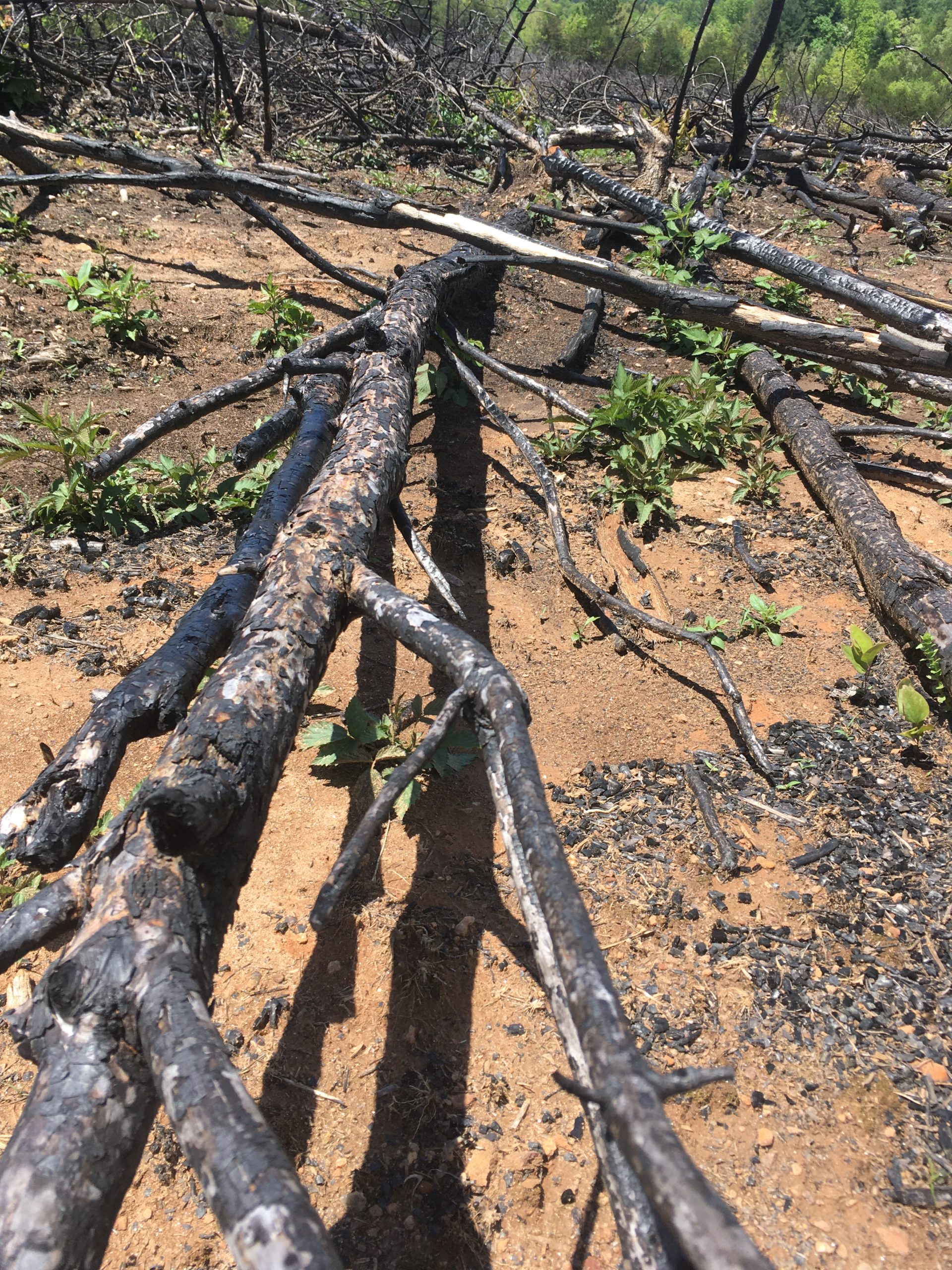 The drum-chop and burn site at Catawba Run. This area was cleared and prepped for a planting of the first shortleaf pine stand.
Shortleaf pine, also called rosemary pine, yellow pine, and old field pine is the most widespread pine species in the United States, ranging across 22 states. It is uniquely adaptive, able to dominate a forest stand, or thrive in a balance with other species, resistant to fire throughout most of its 200 year lifespan, and able to grow on varied soils and in different climates.  Because of these qualities, shortleaf played an important role in the lives of many species who called the forest home. Wildlife including birds and small mammals used shortleaf as a food source. Indigenous Peoples appreciated the shortleaf's gifts of cover, and medicinal properties found in the bark.
This pioneer species is "slow but steady" in it's growth. While it is valued commercially for it's high quality wood, other species like loblolly are faster growing , able to provide a less desirable but quicker product. While sometimes used to manage wildlife for hunting, even today shortleaf pine provides habitat for a wide range of animal and plant species throughout the United States. Due to over-forestation, pest pressure, and shift in commercial value, this once quintessential pine now covers less than 10% of it's historic acreage, only 6 million acres of its original 60 million!  In order to understand how this dramatic decline occurred, we must take a closer look at how European colonists used the Eastern forests that they found in  the region.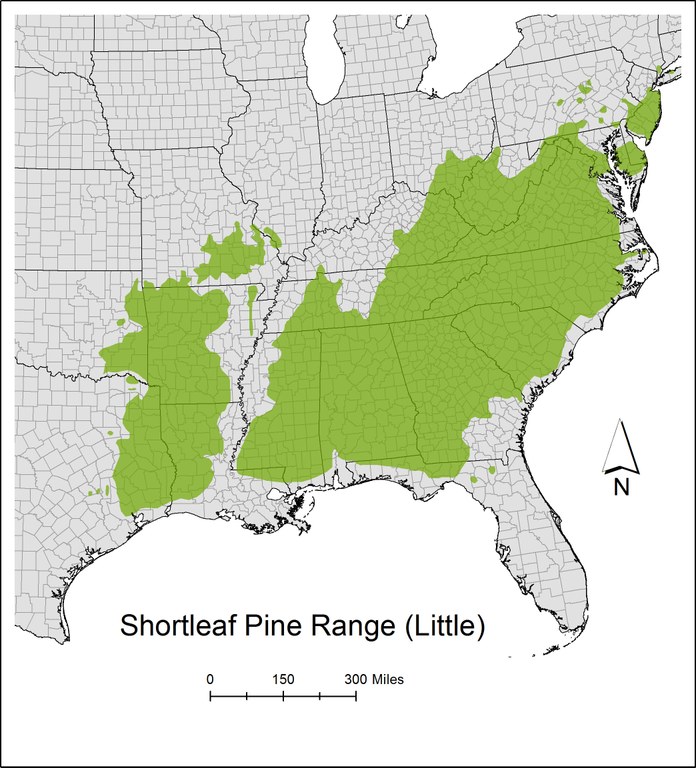 Shortleaf pine range today. Shortleaf pine only occupies 10% of it's original range, covering 6 million acres Nationally.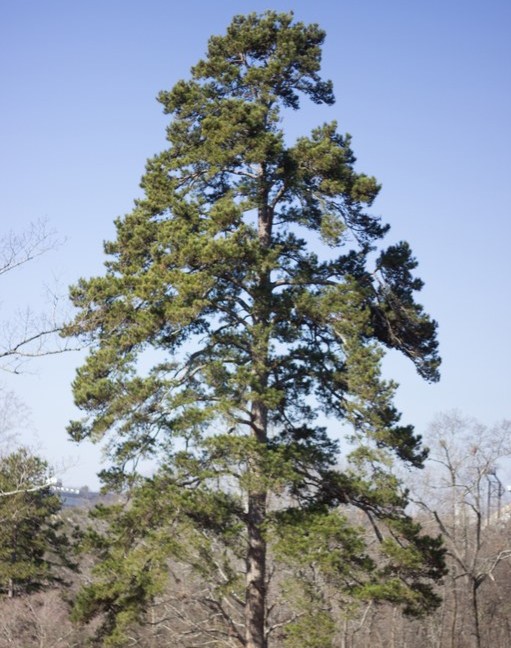 A mature shortleaf pine. Shortleaf pine trees have a lifespan of 200 years and occupy pure or mixed forest stands. They are also c0-dominant with some mixed-oak species. 
In the 1700s and 1800s shortleaf pine was one of the most utilized raw materials used for building construction in the Mid-Atlantic. Used for framing, finish work, flooring, and furniture, shortleaf pine was all but extinct in the Eastern U.S. by the mid-1800s. Since no new pine stands had been planted or sustainable forestry methods adopted to maintain the species, these clear-cut areas were left to regenerate on their own. It wasn't until the early 1900s that these stands would be mature enough to cut again now a mix of regrowth and other species like loblolly. Unfortunately, history repeated itself, clear-cutting the mature stands and all but wiping out shortleaf pine on the East Coast once more. It is estimated that the shortleaf pine has declined by more than 50% since 1980.  
Valued less commericaly than loblolly, and less ecologically than long-leaf pine, shortleaf pine has historically taken a back seat to other pines in the forest industry and in conservation. Here in the Piedmont loblolly was favored commercially for replanting. This not only meant that new shortleaf stands were not planted, but that loblolly seeds became dominant in the seed bank, easily outcompeting naturally regenerating shortleaf pines. The altered natural fire regime due to early forestation by European settlers also continues to inhibit the shortleaf from regeneration and competition with other species in our region. In recent years, new collaboratives, like the Shortleaf Pine Initiative, are working to  restore shortleaf pine to its original range, with much of these restoration efforts occuring on privately owned land like Catawba Run!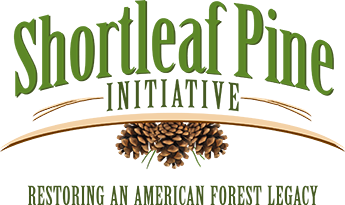 Conservation through Collaboration
The Shortleaf Pine Initiative (SPI) is a broad range of public and private organizations, as well as key state and federal agencies currently working in the shortleaf pine ecosystem. The SPI is currently forming an Advisory Committee and Planning Team to lead efforts in developing a range-wide conservation plan for shortleaf pine and launching an initiative to implement the plan's strategies and actions. The Advisory Committee represents an extensive group of conservation minded agencies and organizations with the common goal of restoring this imperiled ecosystem. Check out their website for all things shortleaf! 
With the help of North Carolina State Forestry staff, Foragable Community has developed a 5 year plan to restore shortleaf pine at Catawba Run.  We began implementing this plan in 2019 with the planting of about 10 acres of shortleaf pine.  Last summer we cleared the land using a drum-chop and burn method. Fire plays a critical role in shortleaf pine regeneration, and establishment – preparing the bare soil for regeneration and reducing competition between other species. Our planting of  shortleaf seedlings ensures they get a head-start, and can maintain their dominance in the forest stand. This new shortleaf pine stand joins the forestland mix of old-growth, unmanaged regrowth from clear-cut, and other sustainably managed pine stands.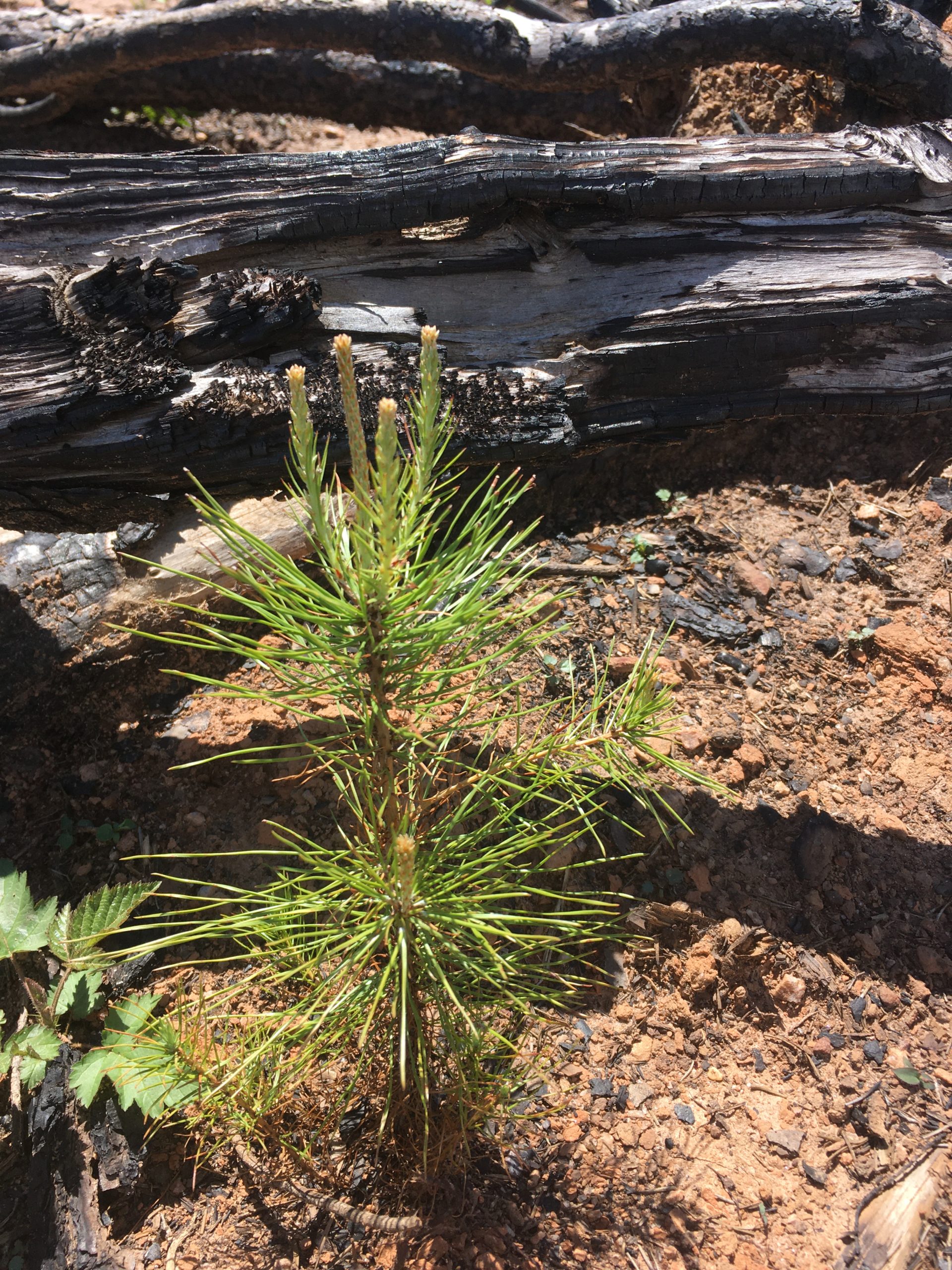 A newly planted shortleaf seedling at Catawba Run. With the help of local foresters we planted 3,630 containerized seedlings across 10 acres. This summer, 40 acres will be cleared for a second planting of shortleaf.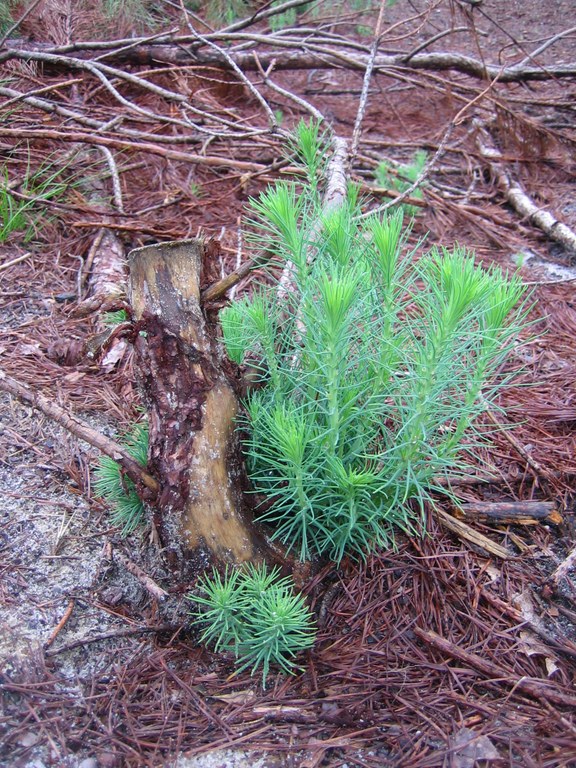 Regrowth of a shortleaf seedling after a prescribed burn. The shortleaf's unique j-shaped basal crook, or root feature, allows for regrowth even after being topkilled by fire or another major event. The j-shaped crook remains close to the ground, allowing basal buds to be unscathed by fire or other events. 
Re-establishing short-leaf pine at Catawba Run will be an ongoing process, with the first prescribed burn occurring within the next ten years. Shortleaf pine has several fire-adaptive traits including the capacity to resprout after being top-killed by fire. According to McDowell County Ranger Weston VanDenabeele, this early prescribed burn will help to manage competition from other pines and thin out the understory allowing shortleaf a greater success rate. This management practice sets our project apart from other conventional management of shortleaf pine which typically uses chemical herbicides to create a similar impact. When asked about other next steps, Weston clarified that a lot of our management decisions will be based on how this first stand performs. These next four to five years will indicate how we need to proceed with this particular stand, whether it is through replanting, manually clearing competing species, and additional prescribed burns. In the meantime, Weston and the Catawba Run forest team will work together again this summer to drum chop and burn another 40 acres, planting it all in shortleaf beginning next winter.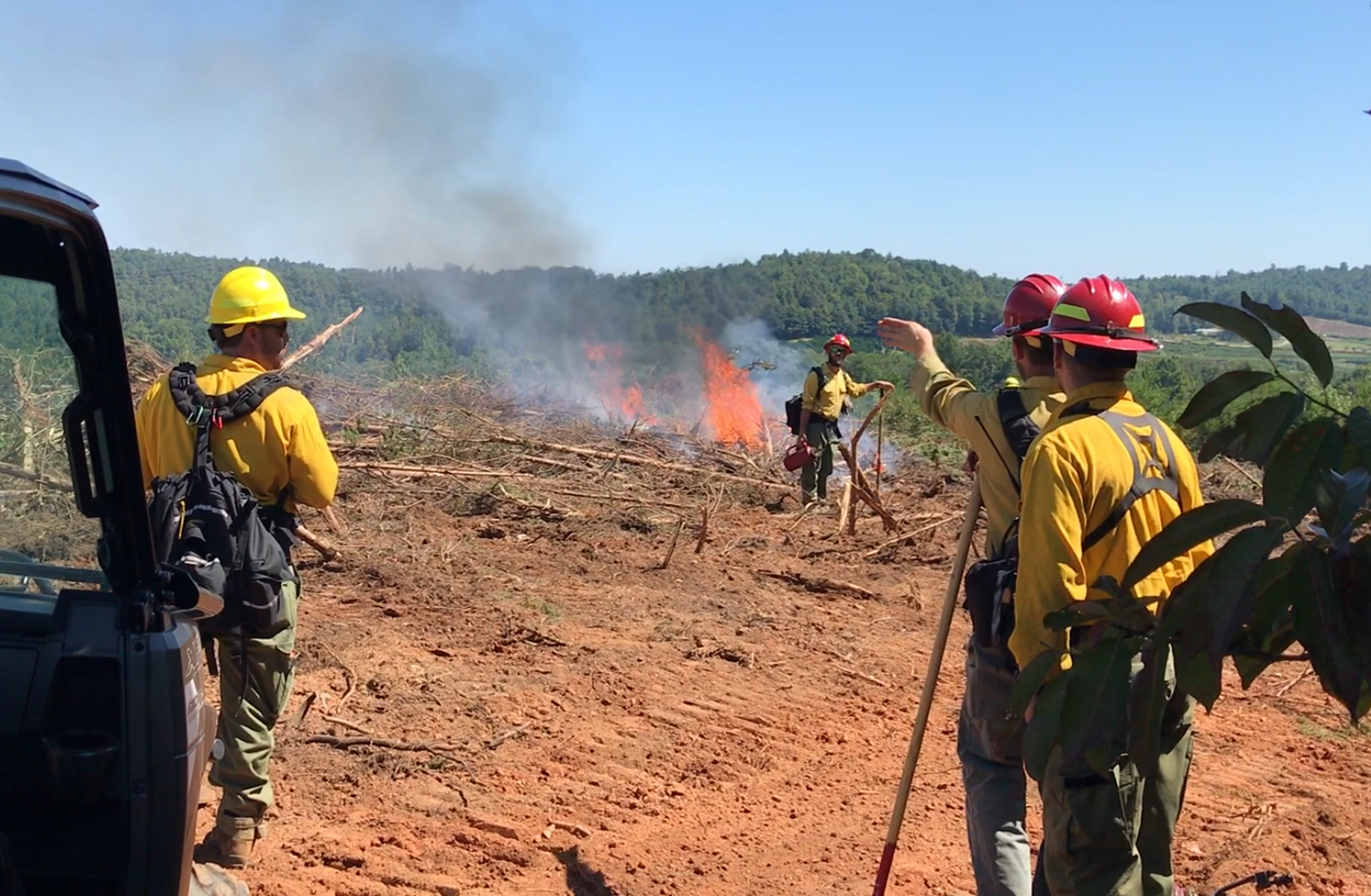 Conservation and Cost-Share
Catawba Run is so grateful to be working with Foresters like Weston to make projects like this one a reality! By utilizing cost-sharing opportunities through our state agencies, we are able to make forest restoration and conservation cost-effective and collaborative. Check out the North Carolina Forest Service website for more information on their Agricultural Cost-share Program. 
While the scene at Catawba Run might feel destructive at first glance, the sustainable forestry practices we will use to restore shortleaf pine to our forests are all based in resilience. The small green tufts of shortleaf pine will provide a new stand of an iconic and once dominant pine species that is adaptable, ecologically beneficial, and commercially valuable. One day, these young shortleaf pine plantings will support a diversity of complementary uses at Catawba Run including wildlife habitat, livestock grazing, and eventually, harvest for high quality timber. This planting is right in line with our goals for reforestation and resilient forest management on the property! Like Weston mentioned, we'll have to wait and see how this first stand does, observing and adapting to the needs of the shortleaf and using resilient management practices to invite this iconic pine back into a region that it once dominated.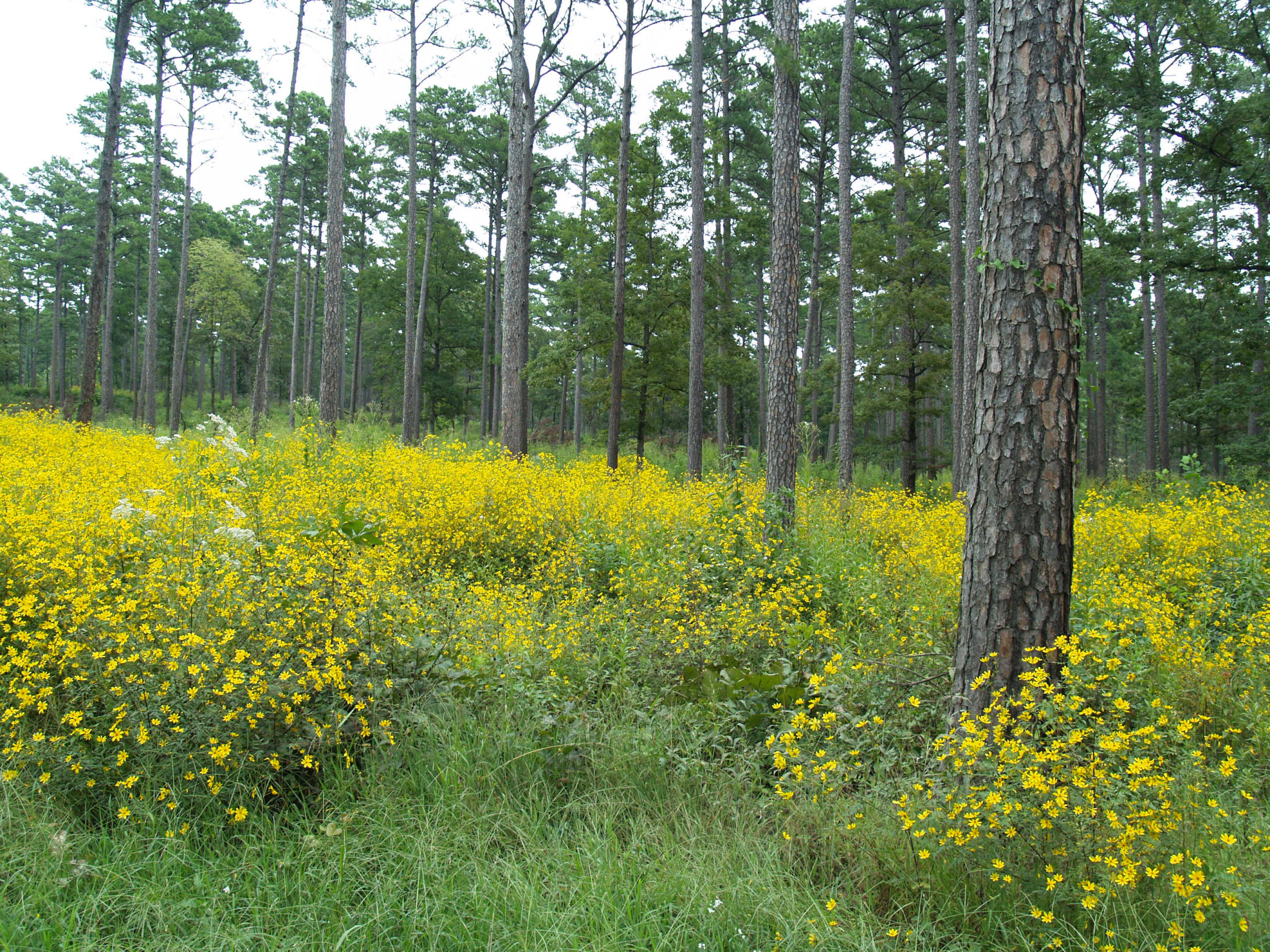 Above is a mature shortleaf pine stand. One day the newly planted seedlings at Catawba Run will be mature trees like these! Grasses and herbacious understory like the one pictured here will welcome livestock to graze, with the area one day managed for silvopasture.   A walk through this now cleared and newly planted area, will be full of the sights and sounds of wildlife, understory plants and shrubs, and beautiful shortleaf canopy!
Catawba Run is 275 acres of old growth, unmanaged regrowth, and sustainable pine plantation located in the Piedmont region of North Carolina, near Nebo, just west of Morganton. This land is the setting for Foragable Community's next demonstration of our shared values: to use ecological management practices and resilience principles to restore the health and wellbeing of degraded landscape, and concurrently have a positive impact on the lives of people who participate in this vision of redemption and renewal.
The Catawba Indian Nation are the descendants of the original inhabitants of land that we call Catawba Run. The Catawba, or "the people of the river" pronounced yeh is-WAH h'reh in their native tongue, were farmers, renowned potters, and stewards of the land in most of the Piedmont of South Carolina, North Carolina, and Southern Virginia. Foragable Community acknowledges that Catawba Run is on this ancestral land.  
Resources 
The Shortleaf Pine Initiative is a broad range of public and private organizations, as well as key state and federal agencies currently working in the shortleaf pine ecosystem. The shortleaf pine is the most widespread pine species in the Southeastern U.S. but has been rapidly declining in numbers due to deforestation and other factors.
Weston VanDenabeele is a McDowell County Ranger. He graduated from Western Carolina university in 2008 with a BS in Natural Resource Conservation Management, and have worked for the NC Forest Service since 2010. McDowell County Rangers assist forest landowners in a variety of ways from preparation of forest management plans, assistance on afforestation/reforestation practices, pre-harvest planning, water quality site inspections on logging jobs, insect & disease control and much more. This past winter he and other rangers assisted landowners in planting around 300 acres of trees in McDowell County. For more ways the NC Forest service can assist you and your forestland contact your local county ranger.