Foragable Raleigh hosted a workshop at Raleigh City Farm in October discussing and demonstrating how to create more resilient home gardens in the face of a changing climate.  Local nationally-renowned gardening experts, Jeana Myers (Wake County Extension) and Will Hooker (Professor Emeritus NCSU Horticulture), came out to talk about different methods for creating climate-resilient gardens. The group of 15 participants got a tour of the farm as both experts discussed and demonstrated hands-on ways to help home gardens through times of heat, drought, and deluge. In addition to knowledge and skill building, everyone took home free seeds, and one lucky raffle winner got a subscription to the Raleigh City Farm CSA by Infinity Hundred Farms. 
 The workshop kicked off with a hands-on lesson in how to conduct a solar analysis of your landscape so that you know how much sunlight your garden gets! The amount of sunlight is important to determine what vegetables and fruits will grow well in your home garden and where to put them. Some crops like sunflowers and tomatoes require full-sun, or 6-8 hours of sun a day! Other crops like swiss chard and beets require much less sun or partial-shade, or 3-6 hours of sunlight per day. In any case, the sunlight does not need to be consecutive, meaning good morning and late afternoon light could be enough to grow plants that need full-sun in your home garden. Will showed workshop attendees how to use a Solar Pathfinder device to determine sun exposure on a piece of land at any given time of day.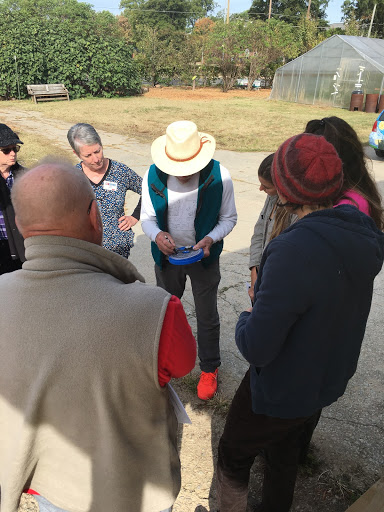 Will demonstrates how to use the solar path finder. 
Next Jeana shared some good ideas for managing heat and drought in your home garden. She gave examples of some drought tolerant plants (like lavender and lilac), explained how to keep soil moist in your garden with groundcovers and mulches, and recommended using drip irrigation to conserve water during times of drought. 
Continuing on the water management theme, Jeana introduced different kinds of landscape designs – such as swales, rain gardens and raised beds – that are particularly useful for moderating rainfall extremes, both when there is too much rain or not enough.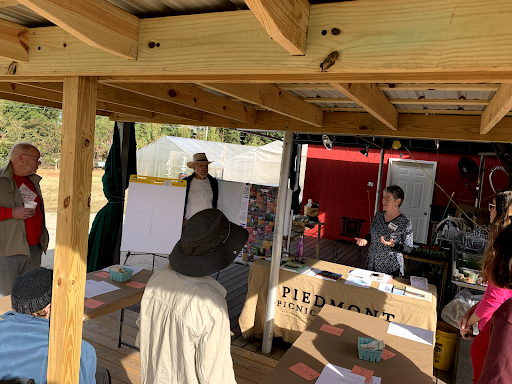 Jeana discusses the importance of soil testing to determine proper nutrients and clean compost options.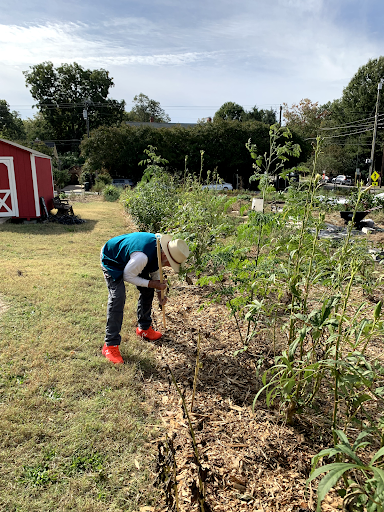 Will demonstrates how to build with split bamboo. 
Everybody's favorite activity was learning about how to use shade to moderate high temperatures in the garden with bamboo shade structures.  Participants worked together with Will and Jeana to construct different kinds of shade structures.
Jeana's take away from the day was a renewed sense that "people are interested in becoming more self-sufficient in terms of food" and that workshop participants were "very concerned about the changing climate and what impact that will have on growing food."  Jeana was delighted and  encouraged to work with such an educated and passionate group of people interested in learning some new skills to cultivate resilient gardens in their homes and neighborhoods no matter the weather.
Foragable Raleigh is supported by the Foragable Communities initiative and led by local host Piedmont Picnic. This workshop is the first in a new series of Foragable Raleigh events designed to connect and cultivate community resilience through local foodways experiences. 
Will Hooker and Jeana Myers are a husband and wife dynamic duo of gardening expertise that we are lucky to have right here in Raleigh. Jeana Myers is a Wake County Extension agent of Agriculture and Horticulture who educates people on growing their own food every day and Will Hooker is a professor emeritus of horticulture from NCSU and nationally-renowned permaculture expert.
Raleigh City Farm is a nonprofit urban farm founded in 2011 on a formerly vacant one-acre lot in downtown Raleigh.  They believe in the power of urban farms to reduce waste, create healthier communities, and re-connect city-dwellers with healthy food production through more frequent encounters with agriculture.