It's a beautiful summer morning  in the countryside near Nebo, NC and you're walking down a winding dirt road.  As you round the first corner you see brightly colored flowers moving in the gentle breeze against a background of green, hear the buzzing of insects, and pause a moment to breathe in the earthy smell of summertime in the country.  As you walk on, a broad field of trees and shrubs opens up to your right and you begin to hear flowing stream just beyond the chestnut grove coming into view.
Each turn leads you to a new discovery. There are pear trees, cut flowers, a dye garden, and cover crops, sheep and goats weaving in and out of loblolly pine trees. As you continue walking a large area of shrubs and trees opens up in front of you.  You gaze at the mountains over the trees, watching the birds dart up and down, listening to their call and response. As you continue on down the hill, long rows of vegetable crops – squash, cucumbers and tomatoes – catch your eye and you take a moment to pick some for lunch. Then you continue walking toward the river to your campsite in the paw paw grove, looking forward to preparing a lunch rich with the mid-summer flavors of Catawba Run.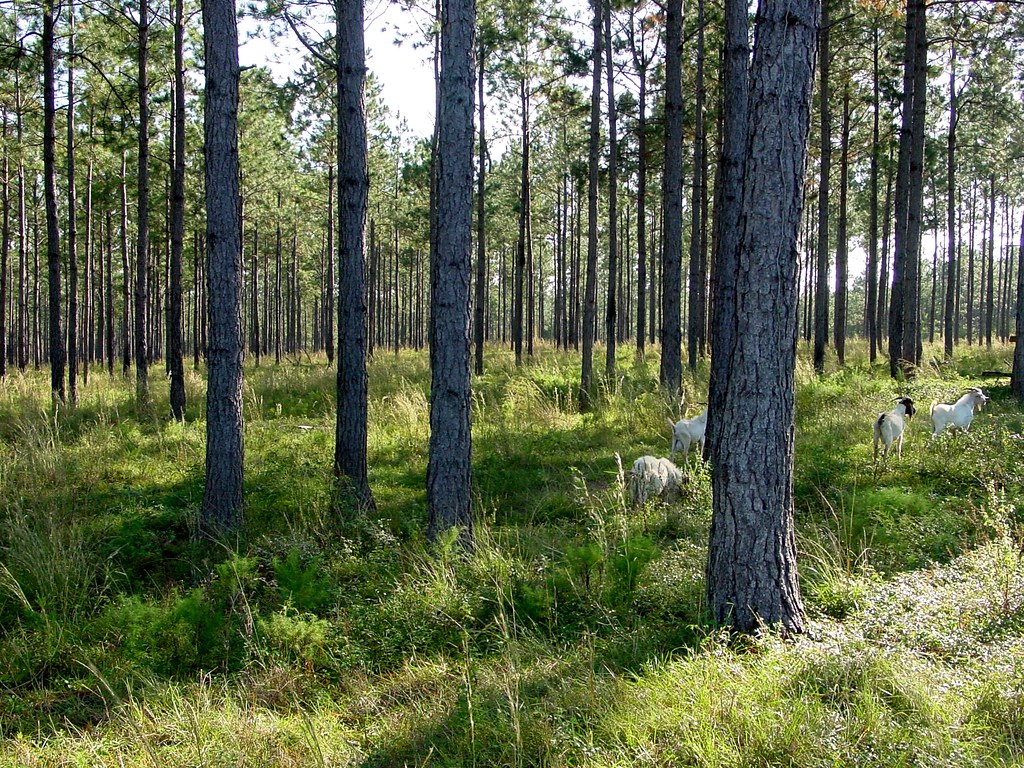 This is the vision of Catawba Run included in a conceptual master plan for the property completed last month by Kindred Roots Design. The plan guides a 10 year process of ecological restoration and community development on 275 acres of worn out forest and farmland located in the Piedmont region of North Carolina, near Nebo. Kindred Roots led the development of the plan through a year of activities designed to promote shared visioning and collaborative engagement that included efforts to bring the "voice of the land" into the design process along with more traditional site analysis and assessment. 
The plan includes detailed recommendations for the ecological restoration and resilient development of the property according to existing land use as pictured above. The plan includes design recommendations for the production of annual and perennial food, fiber and medicinal plants, forest management, enhancement water resources, and the development of roads, buildings and other infrastructure needed to house residents and visitors and host gatherings on the property. 
Production  
Open fields at Catawba Run will be the first landscapes to transition to different planned uses including grazing animals, vegetable production, forest gardens, perennial production, wildflower meadows and more. These spaces are marked in light green on the Production Overview map below followed by the darker green next steps. Some forest stands will later transition into agroforestry production including farming and management of foraging species. Shared learning, diversity, and production will work together to create a robust and collaborative space for all in these established fields and gardens.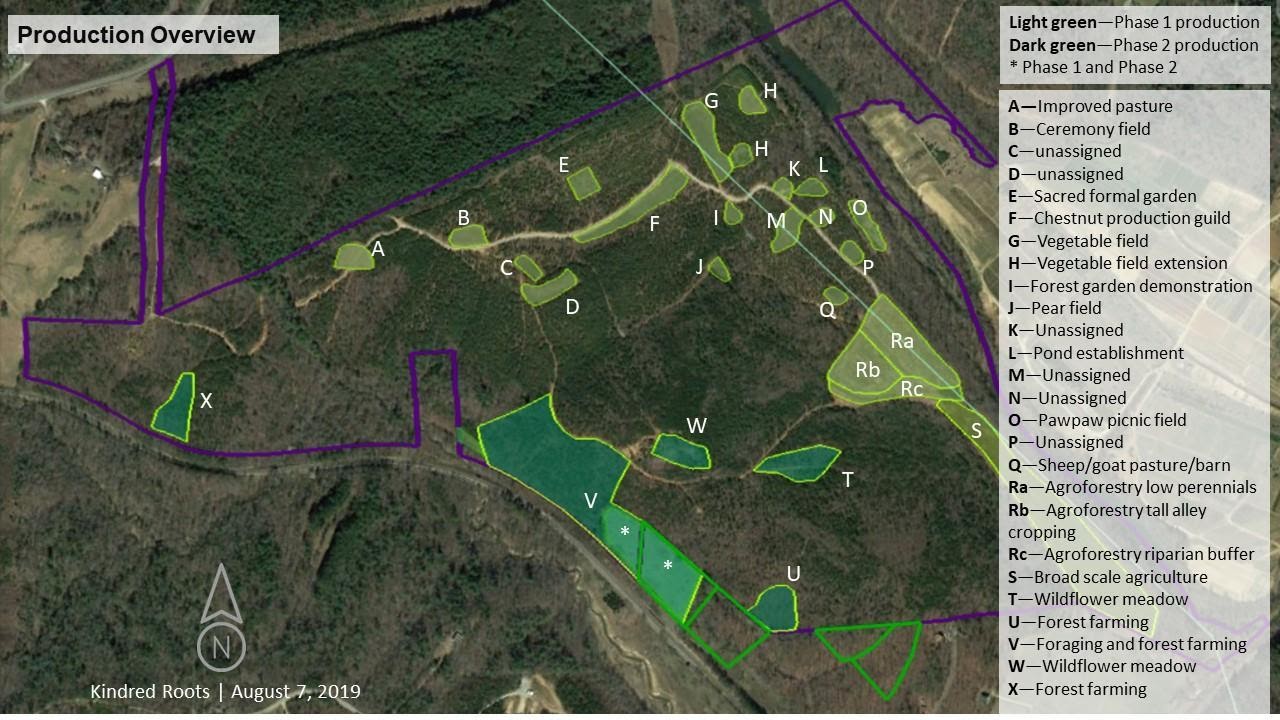 Infrastructure & Roads and Trails 
Other development of the site includes trails, solar power, and in-ground utilities. Buildings for long-term resident housing, shorter term eco-retreats, camping, education, greenhouse production, washing, equipment storage, and a goat/sheep barn are in the plans for Catawba Run as shown in the Infrastructure Overview below. Roads and trails will connect different zones on the property and range from main roads for large vehicle access to foot paths for recreation purposes. Infrastructure and road building will be instrumental in bringing visitors onto the property and into the vision for Catawba Run as a whole as well as for providing access for production, water enhancement, and forest management on the property.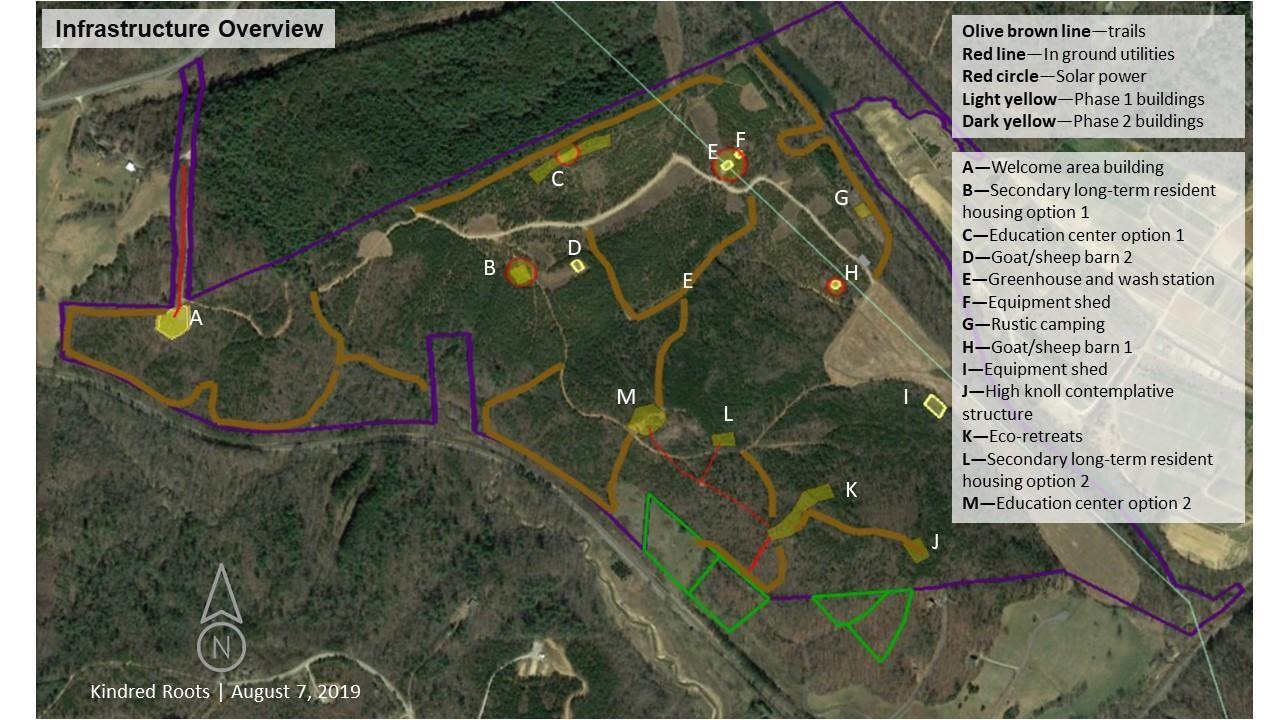 Water Enhancement 
Water enhancement is a key component of ecological restoration for Catawba Run.  Bordered by the Old Catawba River to the east and Shadrick Creek to the south, there are numerous drainages on site. A few strategies including water redirection, plant restoration, and trail building have been chosen for water enhancement at Catawba Run as indicated in the figure below. Water redirection will improve drainage on site, directing water into chosen areas and diverting flooding on the property. Plant restoration will encourage and promote beneficial water loving species to thrive by creating ideal habitat. Trail building will bring people to the water ways allowing for foraging, recreation, and other educational opportunities as well as water usage. These strategies combined will help to restore the Old Catawba River to its pre-disturbed state while creating a place for recreation, learning, and water use.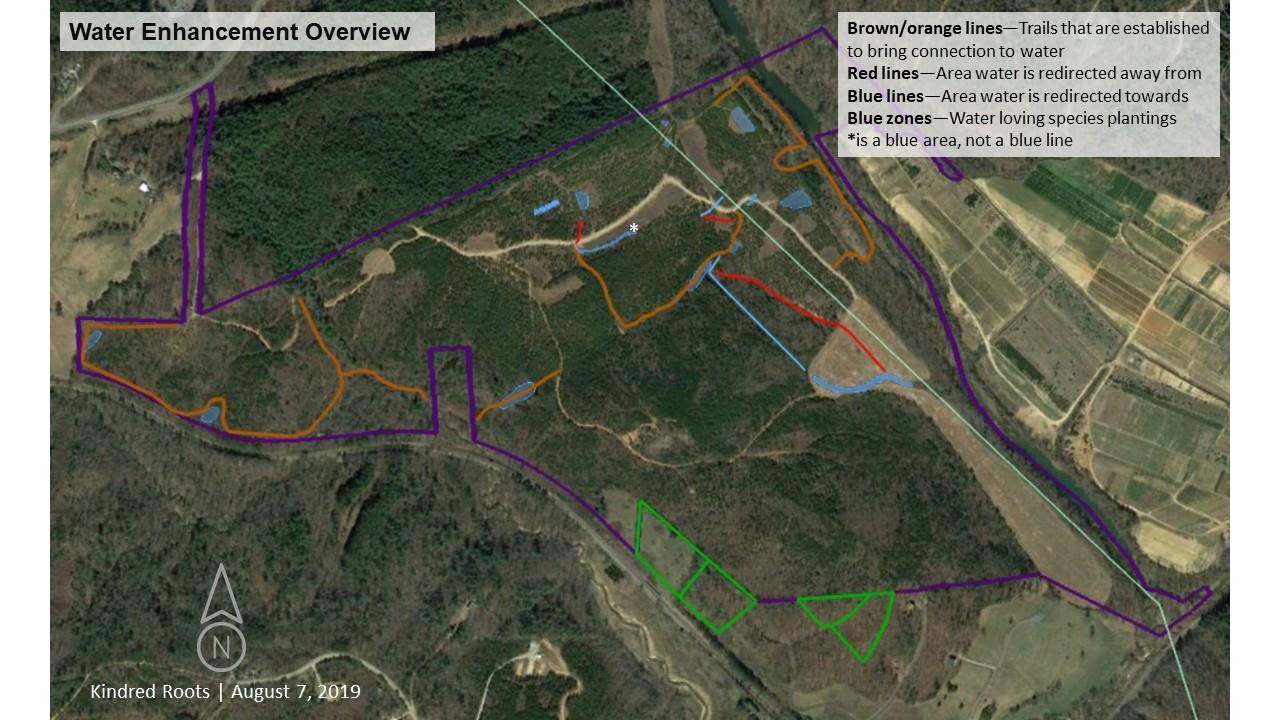 Forest Management 
Forest management at Catawba Run takes into account the trees and landscape that make up the property. Different Forest Management Zones laid out below illustrate current forested areas, and plans for maintenance and reforestation. The current forested area is a mix of regrowth from clear-cutting, loblolly pine, and some older native forest. Thinning of loblolly pine to establish new short leaf pine, and the replanting of hardwoods including oak and hickory will demonstrate intentional regeneration of forested areas. Forestry practices such as drum chop and burn will be implemented to make way for new plantings of both hardwood and pine.  Silvopasture, intentional planting of foraging species, and Agroforestry are slated for incorporation into the new forested areas of the land.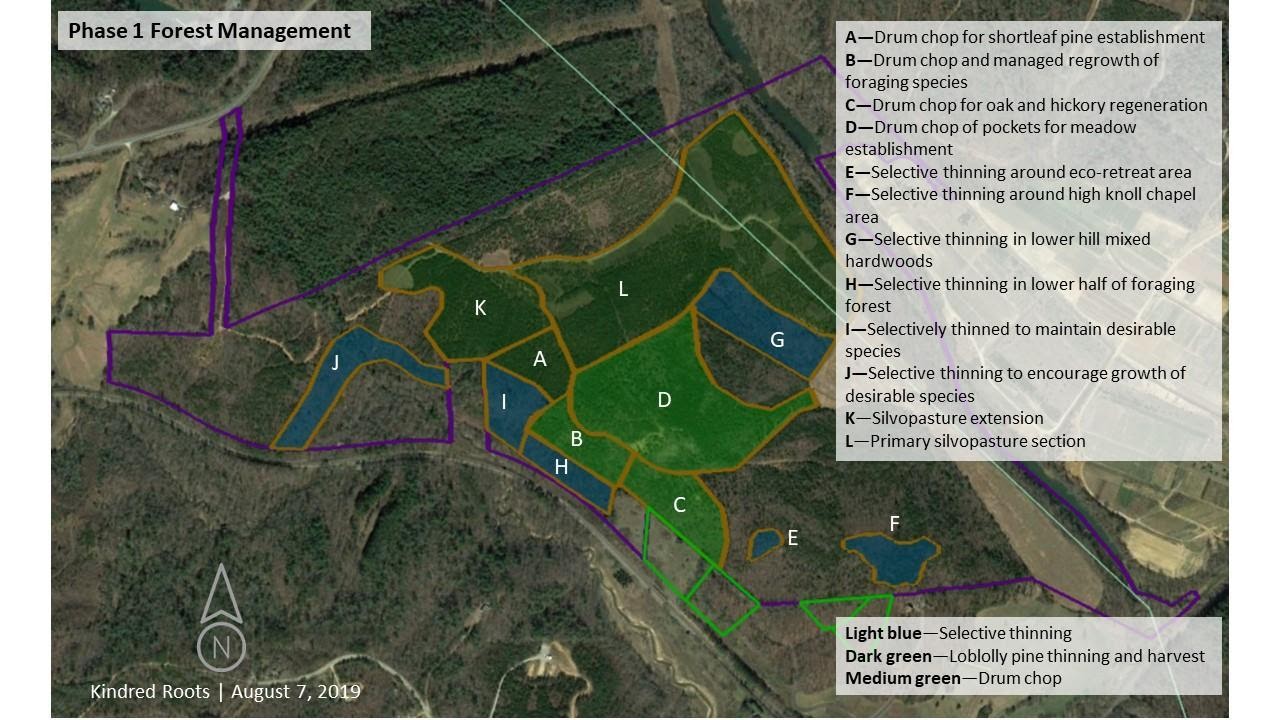 Catawba Run is 275 acres of old growth, unmanaged regrowth, and sustainable pine plantation located in the Piedmont region of North Carolina, near Nebo, just west of Morganton. This land is the setting for Foragable Community's next demonstration of our shared values: to use ecological management practices and resilience principles to restore the health and wellbeing of degraded landscape, and concurrently have a positive impact on the lives of people who participate in this vision of redemption and renewal.
The Catawba Indian Nation are the descendants of the original inhabitants of land that we call Catawba Run. The Catawba, or "the people of the river" pronounced yeh is-WAH h'reh in their native tongue, were farmers, renowned potters, and stewards of the land in most of the Piedmont of South Carolina, North Carolina, and Southern Virginia. Foragable Community acknowledges that Catawba Run is on this ancestral land.  
Kindred Roots Design LLC. is a consulting collective that draws from diverse backgrounds rooted in agroecology and community development to weave together holistic approaches for land and community transformation. The core of our collective is three women brought together by shared interests and a vision of the world they want to inhabit. In the Spring of 2019, with the help of Kindred Roots LLC., Foragable Community began the long-term planning process for our first major land acquisition – Catawba Run.