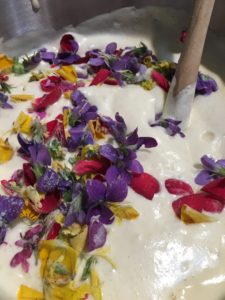 This past Saturday about 20 people braved the rain to join local-food educators from Piedmont Picnic Project and the bee-loving expert of Apiopolis at Mystic Farm & Distillery for a two-hour hands-on pollinator gardening workshop and picnic.  The event was designed for participants who wanted to learn about  and sample different kinds of food and drink made with honey and wildflowers as well as those interested in learning some new pollinator-friendly gardening practices.  Althought the rain put a damper on the hands-on gardening part of the program, participants enjoyed learning about the kinds of plants that feed pollinators and produce beautiful edible flowers that people can enjoy too!
Piedmont Picnic served a tasty spread of food and drink made with wild flowers and honey and then demonstrated all the many different ways to incorporate wildflowers into your menu at home.  As participants enjoyed their picnic, Apiopolis founder and president Alice Hinman showed the group various plants that can be incorporated into a pollinator habitat in their home gardens and spoke about the best ways to grow forage for both native bees and honeybees. Attendees took home pollinator plant seed packets, handouts for how to cultivate some of the top pollinator plants for the region, and some new recipes for food and drink using wildflowers.
Apiopolis is a non-profit urban bee sanctuary in Raleigh.  Its mission is to improve the health and habitat of honeybees and native pollinators, and to form dynamic collaborations that promote the well being of our entire community in a holistic, inclusive, and joyful manner.
The Piedmont Picnic Project uses food history to build awareness and skills around traditional food practices (foraging, gardening, mixology, preserving, fermenting, and creative reuse).  Co-founded by Elizabeth Weichel and Amanda Matson, Piedmont Picnic creates highly-interactive classes, walking tours, and picnics in the Triangle region based on the principle that food history can be a lot of fun and teach us practical ways to eat and live more locally, sustainably, and simply.
Mystic Farm and Distillery produces the Triangle's only field to bottle spirits in a distillery located on their  20+ acre farm in the heart of the Research Triangle just minutes from downtown Durham.  Mystic produces their own corn, wheat, honey and botanicals to produce distinctive spirits flavored by the unique agriculture, water and climate of the Carolinas.