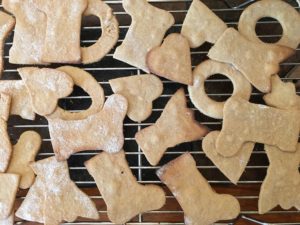 Piedmont Picnic led the second in a series of four Foragable Durham workshops at Mystic Farm and Distillery on Dec 15.  This workshop taught participants how to convert their favorite holiday confection recipes to use all local ingredients and showcase unique local and wild flavors.  Given the location of the workshop, it was only natural to include some options to spike some favorite holiday treats with local spirits.
Workshop participants learned how to source holiday cookie ingredients locally and make some of their favorite classic recipes using all local ingredients – like gingerbread cut-outs, peanut butter blossoms, and sea salt chocolate chip cookies – and learned about the history behind why certain ingredients are available locally and others aren't.
Everyone jumped in to roll out, bake and ice cookies together. This enthusiastic group of bakers appreciated how easy it was to use locally-source ingredients in their holiday baking.  They enjoyed making elaborate icing designs while discussing the possibility of localizing some of their favorite family dishes.  All the workshop participants took home boxes of the cookies they made and decorated as well as other pre-made sample holiday cookies.
The Piedmont Picnic Project uses food history to build awareness and skills around traditional food practices (foraging, gardening, mixology, preserving, fermenting, and creative reuse).  Co-founded by Elizabeth Weichel and Amanda Matson, Piedmont Picnic creates highly-interactive classes, walking tours, and picnics in the Triangle region based on the principle that food history can be a lot of fun and teach us practical ways to eat and live more locally, sustainably, and simply.
Mystic Farm and Distillery produces the Triangle's only field to bottle spirits in a distillery located on their  20+ acre farm in the heart of the Research Triangle just minutes from downtown Durham.  Mystic produces their own corn, wheat, honey and botanicals to produce distinctive spirits flavored by the unique agriculture, water and climate of the Carolinas.