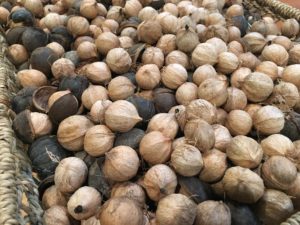 Locally-foraged cocktails were the star of Foragable Durham's first workshop led by Piedmont Picnic and hosted by Mystic Farm and Distillery this past weekend.   The 25 workshop participants learned how to make two different foraged cocktails while they learned some local history about various tonics and snake oil salesmen in Durham. And of course everyone enjoyed doing some cocktail tasting during the event!
Hickory nut milk from foraged hickory nuts was featured in the first cocktail.  Participants joined in the making of the milk by smashing hickory nuts with hammers and throwing them into a big pot to boil.   For the second cocktail, participants learned how to make both hot and cold infusions and syrups from wild herbs and greens.
One participant said she often accompanies her mother to local food workshops, but this is the first one that she really enjoyed.  She went on to say that she never thought about foraging as a way to bring unique local flavors into her entertaining and that she was excited to learn more about foraging.   Other attendees mentioned that the workshop had given them a new appreciation for the nut trees on their property now that they had some new ideas for how to use the nuts that they produce each year.
The Piedmont Picnic Project uses food history to build awareness and skills around traditional food practices (foraging, gardening, mixology, preserving, fermenting, and creative reuse).  Co-founded by Elizabeth Weichel and Amanda Matson, Piedmont Picnic creates highly-interactive classes, walking tours, and picnics in the Triangle region based on the principle that food history can be a lot of fun and teach us practical ways to eat and live more locally, sustainably, and simply.
Mystic Farm and Distillery produces the Triangle's only field to bottle spirits in a distillery located on their  20+ acre farm in the heart of the Research Triangle just minutes from downtown Durham.  Mystic produces their own corn, wheat, honey and botanicals to produce distinctive spirits flavored by the unique agriculture, water and climate of the Carolinas.